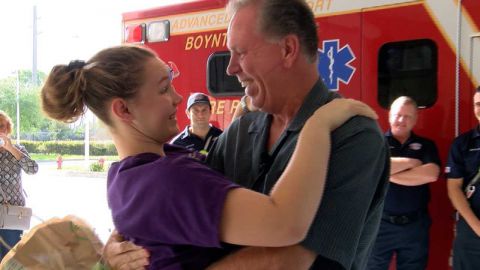 Survivor: Ed Kosiec
Date of Event:
Location of Event: Restaurant, Boynton Beach, FL
Rescuer(s):
Sarah Van Roekel
Altruistic, selfless, self-sacrificing, amazing and my saving grace are only a few words that describe my hero Sarah Van Roekel who saved my life. I am honored to nominate her for the People Saving People Award.
My name is Ed Kosiec. March 12th, 2019 was a typical morning for me. I had run 10 miles to start the day and worked on strength training afterwards. I had been on a pretty active workout schedule that also included biking. I was training for my fourth marathon and was probably in the best shape of my entire life at the age of 51. Later that day, at lunchtime, I was craving Chick Fil A for some reason and asked my wife Holly if she wanted to go and at first she said, "No," and really did not want to go there for lunch. I insisted, so she finally agreed and went with me. We ordered our food and sat down, we ran into a friend we knew and she joined us for lunch. For the past 30 plus years we have been together, I have always sat at the end of the booth at any restaurant we have been at but for some reason, that day, I sat on the inside of the booth. I had finished my lunch and all of a sudden I started feeling dizzy and started sweating and I knew I had to get out of there before something was going to happen. I attempted to stand up but never made it and just slouched over the table, passed out and went into sudden cardiac arrest. That is all I would remember.
My wife was able to get me on the floor and yelled for help. Cassie, the supervisor, called 911 immediately and ran around the entire restaurant trying to find someone who knew how to do CPR. Finally, after going to the kitchen area, she found Sarah, an 18-year-old high school senior. She wasn't scheduled to work that day, but was called in to work between 2 and 5, which happened to be the time when I was there.
Sarah did not hesitate a second and jumped into action immediately with no fear and rushed to my side and started Hands-Only CPR. Sarah was the only person in the entire restaurant who knew how to do CPR. There was no AED in the restaurant. Sarah never stopped CPR and never gave up on me. The paramedics and the Fire Department and took over and shocked me three times but I didn't respond. They said typically most people do not come back to life after three shocks, but they thought I was fighting to stay alive and they decided to shock me one more time. The fourth shock brought me back to life and my heart rhythm started to become stable. I was in the ambulance in the parking lot for 22 minutes before they rushed me to the hospital. I miraculously woke up the next morning in the emergency room at the JFK Hospital, having no idea about what had happened.
There are not enough words to describe how thankful and grateful I am. Everything that happened that day had to happen the way it did. There are so many things that fell into place and there are no such things as coincidences. Our God is an Awesome God and He puts people in our lives for a reason.
I finally had the chance to meet Sarah and the firefighters and paramedics face-to-face about three weeks later at the Boynton Beach Fire Department at an event that the entire community put together. It was the most emotionally and humbling moment of my life. I found out Sarah is an amazing smart young lady full of ambition and some goals some can only dream of. She was in the Boynton Beach High School Medical Program since freshman year but had never performed CPR on anyone before. I am just in awe of the character of such a young lady.
I found out that just a few months before my sudden cardiac arrest at Chick Fil A, there was a local schoolteacher in the area who visited the restaurant frequently and had been diagnosed with colon cancer. Sarah took it upon herself to start a Go Fund Me page for him to raise money for his family. I realized that Sarah was not just your average high school teenager—she is an angel from above whose love pours out from her heart and soul to spread to everyone she meets. She is a true blessing. 
We have become great friends. I had the honor of attending her high school graduation and her graduation from EMT school. She has told me that she wants to consider becoming a firefighter, trauma surgeon, or astronaut one day. I do not doubt anything she says and what she puts her mind to. Sarah has a bright future ahead and intends to make the world a better place. I truly believe she will.
Because of my sudden cardiac arrest at the Boynton Beach Chick Fil A, the manager had a CPR training at the restaurant that certified the entire staff. The restaurant has also installed an AED and the corporate office is planning on putting AEDs in all restaurants nationwide. It makes me so incredibly happy to know another person will have a chance of survival because of what had happened to me that March afternoon.
I recently became CPR-certified and a CPR Instructor and have started a CPR foundation called Every Second Counts CPR to spread the importance of CPR and CPR awareness to help save as many lives as possible. Sarah is without a doubt part of the team.
Sarah gives me so much hope and faith for the future of our younger generation and how the world should be. Thanks to her, I know everything is going to be alright.