State CPR education requirements for schools
According to the American Heart Association, 40 states plus the District of Columbia require CPR education for all students before high school graduation. In addition, CPR education is required for students in California who take health classes, or about 89% of the state's student population.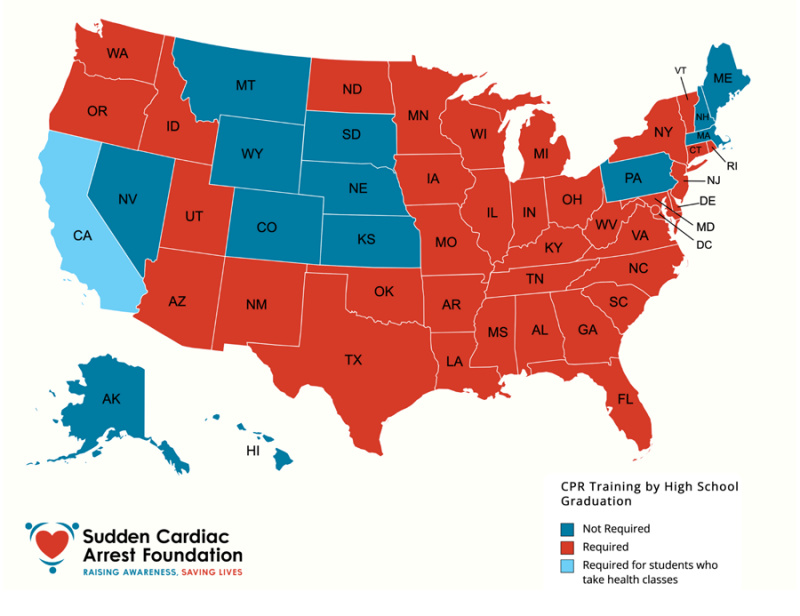 Sudden Cardiac Arrest Foundation worked with the American Heart Association and other organizations to develop a Cardiac Arrest Emergency Plan for Schools, which was published by the National Association of School Nurses. Unfortunately, however, there is a low rate of compliance with emergency action plans in schools.
Federal laws addressing AED placement
Federal laws that address AED placement include:
State laws addressing AED placement
Schools
Based on our 2022 review of the AED Law Center and other sources, 20 states, including Montana, plus the District of Columbia require AEDs in schools. In addition, California mandates AEDs in schools that offer sports.
Health clubs
Based on our 2022 review of the AED Law Center, 14 states require AEDs in health clubs, namely Arkansas, California, Connecticut, Illinois, Indiana, Louisiana, Massachusetts, Michigan, New Jersey, New York, Oregon, Pennsylvania, Rhode Island and Virginia.
Other locations
Based on our 2022 review of the AED Law Center, 22 states require AEDs in dental offices, six states require AEDs at pools, five states require AEDs at assisted living facilities, four states require AEDs in large occupancy environments, three states require AEDs in government buildings, and two states require AEDs in nursing homes.
Addressing concerns about AEDs in educational settings
On any given day, educational institutions house more than 20 percent of the U.S. population. As such, educational settings are ideal locations for AED deployment. In the past, concerns regarding legal liability and litigation have been perceived as a barrier to purchasing and deploying AEDs.
However, a shifting paradigm has occurred during the past few years. Due to the increasing availability of AEDs, coupled with their proven success rate and low cost, organizations are now finding themselves having to justify the absence or non-use of an AED. This recent trend has seen lawsuits filed when AEDs haven't been used, aren't available or are available but their presence isn't advertised to the general public. As such, many entities are now acquiring AEDs and developing policies and procedures related to their storage, use and maintenance.
From the onset, it's important to note that the overwhelming majority of jurisdictions afford some type of legal liability protection for AED users. Often, these protections are provided by Good Samaritan statutes. Typically, AED users are protected from liability so long as they act in a reasonable and rational manner. Liability protections generally don't cover gross negligence or willful or wanton conduct, such as consciously seeking to injure the patient or using an AED in a non-accepted, non-standard way.
In the educational setting, many different statutes can play a role in determining what liability exposure, if any, school employees and staff members would face. This is particularly true with public institutions, for which staff members are public-sector employees.
Educational facilities shouldn't allow liability concerns to dissuade them from instituting an AED program on their campus. Administrators should become familiar with the Good Samaritan and AED protections in their jurisdictions and structure AED programs to comply with statutory requirements. Given the recent trends in AED litigation, a facility without an AED may, arguably, be more at risk for a lawsuit than one with an AED. Although the likelihood of success on these types of lawsuits is slim, the institution's public image may be damaged.
By Andrew R. Roszak, JD, MPA, EMT-P, Member, Sudden Cardiac Arrest Foundation Advisory Council
The current state of AED laws
Generally, Good Samaritan immunity laws are enacted by policymakers to encourage particular types of conduct. For example, the first Good Samaritan law, enacted in California during the 1950s, offered immunity to physicians who voluntarily stopped to render aid to accident victims. The goal of this approach was to encourage physicians to act by reducing the risk of negligence lawsuits.
Similarly, starting in the mid-1990s, legislatures throughout the U.S. began enacting AED-related laws, including Good Samaritan immunity laws, presumably with the intent that such laws would reduce liability risks and therefore encourage more organizations and individuals to buy, place, and use AEDs in public settings. Such laws now exist in every state and vary widely in structure, content, complexity, and scope of coverage. The level of legislative activity in this area continues to be robust with continuous efforts to modify existing laws or add AED placement mandates.
By Richard A. Lazar, Readiness Systems, LLC, Member, Sudden Cardiac Arrest Foundation Advisory Council
To learn more about your state's AED Laws, subscribe to the AED Law Center™, a  service specifically designed for individuals and organizations responsible for AED program operational readiness, provided by Readiness Systems. The AED Law Center is a repository of AED laws from all 50 states and the District of Columbia, along with AED Law Profiles™ to help users understand what the laws mean. This information is intended to help you better understand the legal framework within which your AED program operates.
See attachments for additional information.