People Saving People™ Award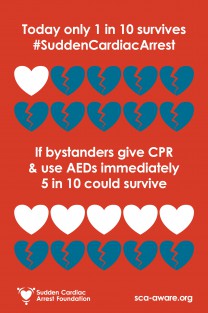 Bystander intervention often means the difference between life and death for victims of sudden cardiac arrest (SCA). In fact, survival rates increase dramatically when bystanders act quickly and decisively. The Sudden Cardiac Arrest Foundation's People Saving People™ Award honors 'ordinary' people with extraordinary spirits who helped save the lives of SCA victims. The purpose of the award is to increase awareness about the critical need for laypersons to intervene quickly in sudden cardiac emergencies.
2023 Contest
Eligibility
Nominees for the award should be individuals who helped save the life of an SCA victim, but did not have a work-related duty to respond. Lifesaving actions could include one or more of the following: recognizing SCA, calling 9-1-1, providing CPR, and using an automated external defibrillator (AED). Preference will be given to cases that occurred within the past five years.
How to nominate your rescuer
Complete and submit this application by October 20, 2023. Please limit your story to 500 words. Questions? Contact info [at] sca-aware.org (subject: People%20Saving%20People%20award) . 
Recognition
Entries will be published on the Sudden Cardiac Arrest Foundation website. Nominees will be acknowledged with certificates of recognition. The first-place winner will be recognized at the Cardiac Arrest Survival Summit, November 29-December 2, 2023, in San Diego, and will win an AED that may be donated to a location of the winner's choice.
To see past nominees, click here.
To see past winners, click here.