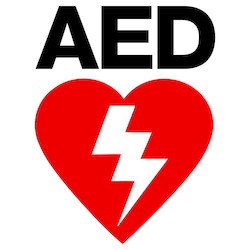 Let's get practical. We all need to face the fact that most of us have to think twice before giving an answer to the question, "What's an AED?"
It's just not in our thoughts most of the time. Thank goodness that SCA events are relatively rare; yet we need to remind ourselves of their possible occurrence and be ready if one should happen in our presence. How about becoming the one who stays aware? How about taking steps to be a person who makes sure that an AED is available in our everyday workplace, knows where it is, and knows that it is kept in working order?
TAKE STEPS
--Set up a personal reminder to be AED AWARE! It could be an AED Sticker, a key chain, or a wallet card any item that comes regularly into your use or view and says AED!
--Find out where the nearest AED is kept; learn what type it is and how to use it!
--Ask some questions, especially if an AED is not readily available to you. Be professional as you inquire. (We don't have to be anything but positive in our attitude and approach as we seek information and access.)
--Get to know the person who is assigned to health and safety where you work. Ask what help you personally can provide to make sure an AED is present and ready for use. Who knows? Maybe you're the one to research and order one for your school or company. Maybe you can be designated to monitor the AED. See https://www.sca-aware.org/sca-news/portable-defibrillators-need-regular…. Also click here for an excellent article on the need for good AED maintenance, with clear steps to ensuring the AED in your area is ready to use at a moment's notice.
--Get current training!
Be truly ready to take the lead in case of an SCA event. Take First Aid/CPR/AED courses.
--Become a trainer!
Why not think big and become an important asset to your organization by
becoming a certified trainer yourself, and offering classes to your colleagues?