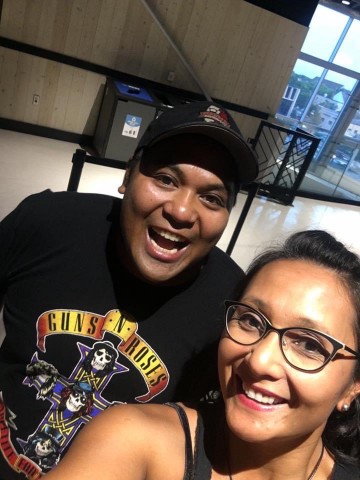 At 9:35 AM on August 8, 2020, I received a panicked phone call. It was my dad telling me it was an emergency and my brother Carlo had collapsed while playing pickleball at a local park. All I heard were the words "seizure" and "injured" and they were driving to the hospital.
Due to Covid-19 rules, I knew they would not be allowed into the hospital so I told them to head to my youngest brother's house to wait on news. My husband met me at our house so we could be with my family. As we backed out of the driveway, we received a call from Carlo's wife as she was driving back to Minneapolis from a cabin in Wisconsin. "Tina. This is Megan. Carlo didn't make it." My response, "What? Are you f****** kidding me?" The rest of the ride to be with my parents and youngest brother was a blur. It was 11:00 AM.
Piecing together the events of his last moments was like putting together a jigsaw puzzle where you don't know what the picture is supposed to look like. Over the next three days some pieces fell into place.
Piece 1 - The Photo. Someone who was there reached out to me and told me that he had taken pictures of the court to send to his wife to show the courts. In the background, there was Carlo. Standing there. The time stamp, 9:25 AM.
Piece 2 - His Breathing. I connected to someone who was playing with him on the court. He had fallen, they thought he was having a seizure. 911 was called. He was "breathing" they told the dispatcher. They were instructed not to perform CPR.
Piece 3 - More Photos. The same person who sent me the photo of Carlo reached out again. He said that he had photos of when EMS arrived on scene. He could send them to me or he could delete them forever. I asked him to send them to me. Time stamp 9:36 AM.
Piece 4 - The ER. They worked on him for over an hour from the courts to the ER. Time of death 10:36 AM. He was 44.
Most recently, Piece 5 - The Autopsy. The medical examiner's report came back. Of the major arteries in the heart, the BEST one was 80% narrowed.
We are still missing pieces but have come to the biggest realization that the biggest piece that is missing is Carlo.
He leaves behind many friends who loved him and his smile so much. He leaves behind his parents who are beyond devastated. He leaves behind a little brother that looked up to him. He leaves behind a wife and 2 young boys. He leaves me behind, his big sister. I have made it my mission to carry the torch of SCA awareness, heart health and CPR education. The best way I can honor Carlo's memory is if I can prevent another family's pain and tragedy.