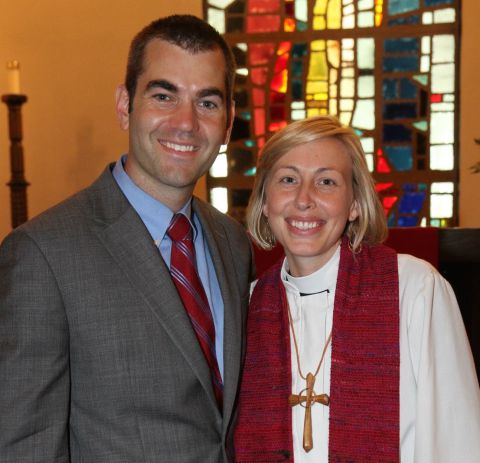 2017 Nominee – Ingrid Rasmussen
Survivor – Paul Rasmussen, Minneapolis, MN, 34 at time of event (March 17, 2015)
Location of Event – Restaurant
To my loving wife, Ingrid, and those caring bystanders who came to my aid on the night of March 17, 2015. Please accept my sincere thanks for your compassion so freely given.
The following is an account of Paul Rasmussen's cardiac arrest written by author, Adam Copeland.[1]
It was a late spring that year, so my friends Paul and Ingrid, a young couple in their early 30s, decided to get out of the city and go for a drive. They ended up at a café in Stillwater, Minnesota, along the banks of the St. Croix River. They ordered cocktails and appetizers. All of a sudden, Paul collapsed. Employees and customers alike rushed over and lowered Paul's limp body to the floor. He was unconscious. His heart had stopped beating. Somebody called 911.

A nurse led chest compressions and Ingrid administered mouth-to-mouth breaths. Before too long, the paramedics arrived. As Ingrid puts it, the paramedics had all the tools they lacked -- clear minds, oxygen, and an automated external defibrillator, or AED. All it took was one shock with the AED, and Paul was revived from sudden cardiac arrest. The paramedics whisked him off to the hospital and a kind waitress drove Ingrid close behind. There, a highly trained medical team conducted surgery under bright lights with medicine's latest tools, installing a pacemaker/ Implantable Cardioverter Defibrillator (ICD).

Paul has made a full recovery. Some two months later, Ingrid wrote a letter to the editor that appeared in the Stillwater Gazette. She ends the letter by acknowledging it took some time, "to articulate what we knew right away: in the midst of the sorrow and loss, the fear and pain, a certain grace found us in the women and men we had never before seen and may never see again."
Indeed, without the quick thinking and kindness of the café's workers, the nurse and paramedics, and the entire medical team at the hospital, Paul likely would have died. His very life is now a testament to the gift of caring for strangers.
[1]
In asking Paul's permission to share his story, he reported that he's become a sort of "sudden cardiac arrest" evangelist. When a person collapses and is experiencing a SCA, time is crucial. Only a rapid response can save lives, including calling 911, administering CPR, and treating with an automated external defibrillator. In the U.S. alone, SCA accounts for more than 350,000 deaths each year.
Nominated by Paul Rasmussen