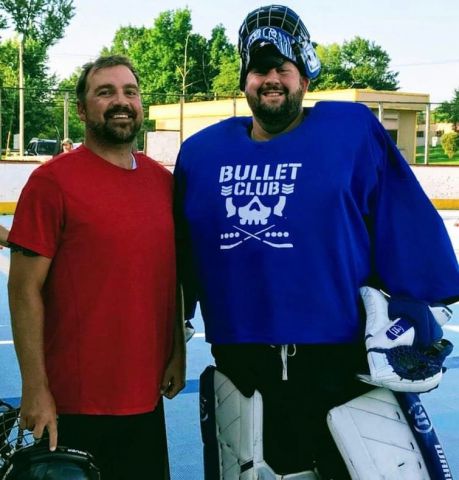 Survivor: Richie Ross
Date of Event:
Location of Event: Hockey game
Rescuer(s):
Bryan Conforto
On March 28, 2019, my husband, Richie, went to play deck hockey, as he has a few times a week for as long as I have known him. He was 38-years-old and perfectly healthy. He exercised regularly, ate well, worked at a job that he loved, and didn't smoke. We are high school sweethearts, have two kids, and the picture-perfect life.
The story I would hear later was that Richie didn't feel well during the game. When he arrived, a man named Bryan (who was playing goalie for the other team) greeted him with a typical "Hey how's it going?" and my husband replied with "I don't feel well, I hope you know CPR." Richie played half of the game and even scored two goals against Bryan before his prediction came true. He came to the bench after a shift and slumped over, gasping for air, and then went unconscious. His friends carried him off the bench and laid him on the deck. Thank God Bryan was there and recognized that Richie wasn't breathing right. He threw off his goalie gear and initiated CPR immediately. His friends activated 911. I was listening on the phone as the paramedics arrived and found him to be in V-fib arrest and defibrillated him three times.
Richie spent three weeks in the ICU on a ventilator for aspiration pneumonia. He had moderate anoxic brain injury and when he was well enough physically he went to an inpatient brain rehab facility. Richie spent three weeks there before improving enough to be released just a few days before his 39th birthday.
As if saving Richie's life wasn't enough, while he was hospitalized Bryan organized a deck hockey tournament with over 100 players, a Chinese auction, and a bake sale to raise money for my family. He raised over $7,000 to help us cover the costs of Richie's medical bills. My family thinks of him as a guardian angel walking the earth. Bryan is very humble and refuses to be called a hero. He says he was "in the right place at the right time."
He now teases my husband that he had dry lips when he gave him CPR and brought him chapstick to the hospital. Bryan does not work in medicine and had never been in a situation like this. He just happened to know CPR and thankfully lept quickly into action when Richie passed out. Because of him, my husband not only survived but other than some short term memory issues is living a normal life. It has now been 6 months since his cardiac arrest, and Richie is back to work. He is driving and exercising- He has even been cleared to play hockey again. He takes our daughter to her softball games and was able to make it to our son's kindergarten graduation.
If not for Bryan's quick reaction and starting CPR immediately, who knows if Richie would have survived, or what quality of life he would have.
-Submitted by Shannon Ross