Phoenix, AZ--The Sudden Cardiac Arrest Foundation, in cooperation with the University of Arizona Sarver Heart Center and the Arizona Department of Health Services SHARE (Save Hearts in Arizona Registry and Education) Program, launched the Arizona Affiliate of the National Survivor Network™ this week in Phoenix. The Network gives survivors and their families an opportunity to find others who have experienced this life‐changing event, share experiences and help one another in the healing process, and participate in research and awareness initiatives designed to help save more lives.
"Through the Network, we aim to create a nucleus of survivors who will not only receive the support they need, but also find ways to channel efforts to raise awareness and save other lives," said Bentley J. Bobrow, MD, Medical Director, Arizona Department of Health Services (ADHS), Bureau of EMS and Trauma System and the SHARE Program.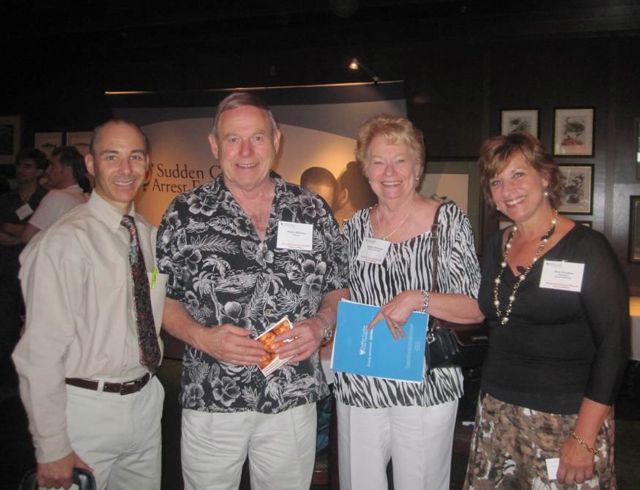 In his remarks, Bobrow recognized meeting participants Will Humbel, ADHS Director; Terry Mullins, EMS Bureau Chief; and Bob Kahn, Chief of the Phoenix Fire Department, for actively supporting "hands-only" CPR, a resuscitation method pioneered at the University of Arizona and later adopted by the American Heart Association. He attributed Arizona's growing survival rate to increasing use of "hands-only" CPR by bystanders, plus the 33 cardiac arrest centers around the state using advanced technologies such as mild therapeutic hypothermia.
Humbel, in turn, called Bobrow the "spark plug" of the statewide initiative to save lives threatened by sudden cardiac arrest. The SHARE system, he said, "takes luck out of the equation."
Mary Newman, Foundation President, welcomed the survivors and their families to the Network. "We want you to know that you are not alone—that you share common experiences with other survivors," she said. "We want you to know we care about you, your families and your well-being. We hope the Network provides you with a sense of community and support and—if and when you are ready—ways to become advocates for the cause."
Citing a small but growing body of research[1][2], Newman said it is not unusual for survivors to experience depression, generalized anxiety, and "shock anxiety"—the fear of shocks from implantable cardioverter defibrillators (ICDs). Survivors often face challenges in their relationships as everyone involved adjusts to life after SCA. Sometimes survivors experience "survivor guilt," a symptom of post-traumatic stress disorder. Many survivors find themselves searching for the meaning of this new phase of life.
Jeremy Whitehead, Network Director, echoed these themes, referring to his experience as the spouse of a survivor, and to the survivor stories on the Foundation website, http://www.sca-aware.org/survivor-stories, which are replete with such experiences.
Survivors participating in the launch included an elite athlete, a young elementary school teacher and mother, two fathers of young children, and several retired executives. Tom McSherry, MC, an international expert in critical incident stress management and President, Crisis Preparation and Recovery, Scottsdale, facilitated the discussion. Survivors and spouses shared experiences related to shock anxiety, fear of resuming normal activities, concerns about sleeping difficulties, insurance issues, and for some, guilt about the fact that their young children witnessed their events. Survivors also stated that since their events, they have developed an acute sense of what really matters in life.
Those who were concerned about the potential of ICD shocks were reassured by others who have experienced them. Some spoke of the relief and security that comes with knowing that ICDs reduce the risk of dying suddenly from a dangerous heart abnormality. "I'm a great believer in the hardware," said one survivor.
Survivors emphasized that family members also need support. "I have no memory of the event," said one survivor. "My wife is the one who saved me and she is still coming to terms with all that happened." They also expressed an interest in reconnecting with their rescuers to express their gratitude.
Bobrow was enthusiastic about the launch and its prospects. "We would like to see the Affiliate snowball in the year ahead," said Bobrow.
To join the Sudden Cardiac Arrest Network, click here.
To visit the Arizona Affiliate page, click here. For more information about the Arizona Affiliate, contact Paula Brazil at brazilp [at] azdhs [dot] gov.
The launch of the AZ Affiliate was supported by ZOLL Medical Corporation, a sponsor of the SCA Foundation. Other Foundation sponsors include Boston Scientific, Cardiac Science, Elsevier Public Safety, Physio-Control, a division of Medtronic, and the St. Jude Medical Foundation. The event was coordinated by The Event Concierge, Inc., Phoenix.
[1] Vasquez LD, Conti JB, Sears SF. Female specific education, management, and lifestyle enhancement for implantable cardioverter defibrillator patients: The FEMALE-ICD study. PACE 2010;1-10
[2] Hazleton AG, Sears SF, Kirian K, Matchett M, Shea J. Coping with my partner's ICD and cardiac disease. Circulation 2009;120;e73-e76